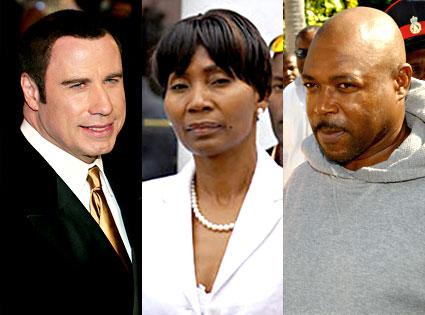 As John Travolta and Kelly Preston have been piecing their lives back together since the untimely death of their son, Jett, Bahamian prosecutors have been busily piecing together a case against the duo accused of trying to profit from their loss.

The nation's director of public prosecutions said Thursday that his team is ready to go to trial after collecting all of the necessary witness statements and other evidence they feel is needed to successfully convict former island Sen. Pleasant Bridgewater and paramedic Tarino Lightbourne of conspiracy and attempted extortion.

Travolta was named as a witness earlier in the investigation, but no word yet on whether he'll take the stand during the trial.

Bridgewater and Lightbourne are currently each free on $50,000 bail. Both were charged in January with plotting to bilk $25 million from the Travoltas with the help of a "refusal to transport" document, which supposedly was intended to imply that John and Kelly didn't do all that was in their power to save Jett when the 16-year-old suffered a seizure at the family's vacation villa.

Jett had not suffered a minor injury and instead "was very ill, and so the document doesn't come into play," Senior Assistant Commissioner of Police Marvin Dames told the Nassau Guardian at the time.

Arraignment has been scheduled for April 28. Both Bridgewater and Lightbourne have maintained their innocence since being arrested.

A third man, Travolta family friend and former Bahamian government official M.P. Obie Wilchcombe, was questioned in connection with the investigation but never charged.

According to Australia's Courier-Mail, Travolta and Preston just spent three days in Brisbane after vacationing over the Easter holiday in Fiji. They flew in on their private jet Monday morning and left yesterday evening.